Why is this degree important?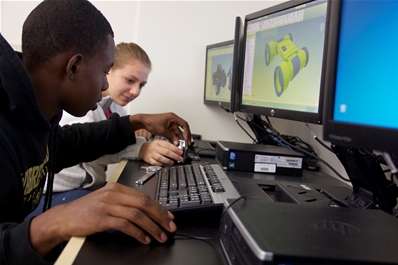 Monday, August 1, 2016
National
"Passionate educators with issue expertise can make all the difference, enabling hands-on learning that truly engages students-including girls and underrepresented minorities-and preparing them to tackle the grand challenges of the 21st century such as increasing energy independence, improving people's health, protecting the environment, and strengthening national security."
- President Barack Obama, "Educate to Innovate" campaign announcement speech
Colorado Educators
"We commend the efforts of UCCS leaders who are dedicated to serve the needs of our state's school districts and students in the key content areas of math and science."
- Colleen O'Neill, Executive Director, Office of Professional Services and Educator Licensing, Colorado Department of Education.
"There is a definite need for a program that produces highly qualified teachers eligible to be licensed in math and science as evidenced by the shortage of secondary level math and science teachers available for Colorado's students. Training teachers to serve students in K-12 STEM education is beneficial for the state of Colorado and the nation."
- Dr. Mark Hatchell, Superintendent of Schools, Academy District 20
Workforce
"Earners of this new degree will be highly qualified and licensed to teach both math and science, and will also have been introduced to engineering disciplines. This is crucial to our developing work force and a need that TechWise sees every day not only in our local community but globally."
- Shawnee Huckstep, CEO, TechWise
"TechWise values not only STEM education in the workforce from our community, but also the development of educators who can inspire students in STEM professions."
- Shawnee Huckstep, CEO, TechWise
UCCS
"The United States is a global leader in large part through the skill and hard work of its scientists, engineers and innovators. That position is threatened as comparatively few American students pursue expertise in STEM fields and by an inadequate pipeline of teachers skilled in those subjects."
- Tom Christensen, Professor, Department of Physics, and UCCSTeach Co-Director
[ Bachelor of Science Engineering Education ]